Getting called out as one of the worst dressed people at the Grammy Awards sounds like a nightmare come true, but for me, it was a valuable lesson about staying true to myself. In 2012, I walked the red carpet of the music awards, the Grammy's. It was not only my first time being anywhere remotely near the prestigious show but also my first nomination: Best Contemporary Christian Song – "Hold Me."

I showed up with my mom, dad, sister, and brother-in-law, but anyone who knows me knows that my mom and I were truly the dream team and design duo. I walked the carpet in a dress that she and I designed together, an earring she made, and boots that were her idea to get covered in rhinestones. My hair style (at the time) was my signature, braids on one side and hot pink highlights on the other. Both my hair and wardrobe were brought to life by exceptional designers and stylists who had become good friends.
It wasn't until days later, when an article was released listing the "Worst Dressed at the GRAMMYs," that I even thought for a moment my outfit might be a little bit odd. I remember staring at the computer screen, feeling a bit confused and wondering if it were true. It had taken years for me to become confident in my own skin—to be proud of being different, and this hit much harder than bullies in high school or being left out of a party in college. In my mind, my music career was the space where my dreams finally came true, yet for all my hard work, this article felt like a punch in the gut.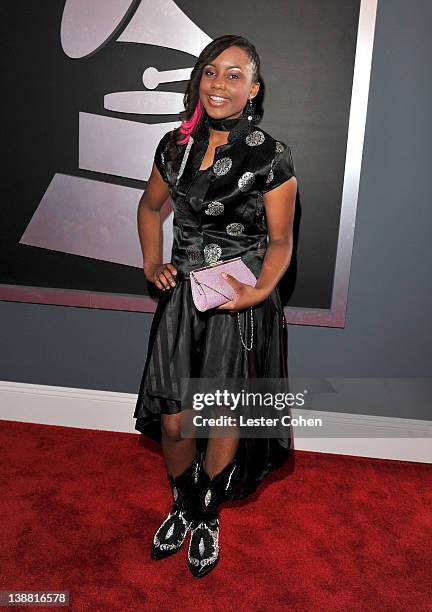 While we may never repeat the same seasons in our lives, we will often relearn some of the same lessons. And ones that seem to repeat in my life are learning to embrace my personal style and having confidence in what makes me different. Here are a few other notes from my lessons learned…
1. Wear What Makes You Feel Good
The most important thing is that you feel good in what you're wearing. There are fashion experts who can give you advice on your body type and even match certain colors with your skin tone or hair. There are also cultural expectations and ramifications (for example, I probably wouldn't wear a ball gown to breakfast at my parent's house). But ultimately, if you love an outfit, don't let anybody else's opinion stop you from wearing it. Confidence is the best accessory—it goes with everything.
2. Find Your Own Voice
It can be easy to get caught up in trends, but just because something is popular doesn't mean it's right for you. The writer of that article felt what she felt about what she saw me wearing. Ironically, many people at the actual award show gave rave reviews as I walked around the arena. Everyone is entitled to their own voice, and only you can find yours.
3. Embrace Your Village
It took a few months for that article to stop affecting me. It would pop into my head on random days, and I'd find myself sad, insecure, and even embarrassed. It was the love and frequent reminders from my family about who I really was that truly carried me through. They reminded me how excited I was to wear my outfit and would occasionally bring up the names of people who complimented me throughout the night. If you're ever feeling down about your personal style or the choices you make, remember that you have a village of people who love and support you. The people who truly care will always be there for you.
While I've had very human moments of doubt, my confidence has stayed with me throughout my career, and it's led me to take risks and experiment with my style. Looking back, I'm so glad I did because those "risks" are what make me unique.
Your personal style is just that—personal. It should reflect who you are as an individual. If you're more laid-back, find clothes that match your personality. If you're more daring, go for something a little out of the ordinary. The most important thing is to stay away from trends just for the sake of following trends and to be true to yourself.
What's a lesson in personal style that you've learned?
Leave a Comment